Yardville Pre-School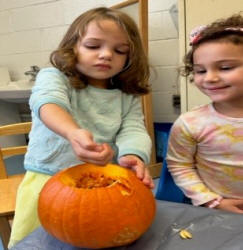 Opened in September 2004, the Yardville CYO Pre-school quickly established itself as one of the top Pre-schools in Mercer County. Our school, for 3- 5 years old, is a state licensed facility with extremely small class sizes and excellent staff to child ratios.
Our head teacher/ supervisor, Kate Monroe, leads the qualified & experienced staff. The Pre-school staff takes pride in creating a fun, clean, safe, learning environment for young children. The Yardville CYO Pre-school's curriculum follows the 'Creative Curriculum' and focuses on the whole child. The children are engaged in beginning math activities, imaginatie play, creative arts, emergent literacy lessons, and so much more!
We offer flexible schedules, affordable rates, and high quality programming. A morning & afternoon snack, school t-shirt, and field trips are included in the monthly tuition. For the most part, we operate under the same calendar as the Hamilton Twp. School District.
Ages 3years-5 years
State Licensed Facility and Program
Qualified and Experienced Staff
Small Class Sizes
Excellent Staff To Child Ratios
Flexible Schedules
Am & PM Snack Included
Large Outdoor Facilities
Questions about the program contact: Kate Monroe- Preschool Supervisor - (609)585-4280 ext. 101 - KMonroe@cyomercer.org
Yardville After School Program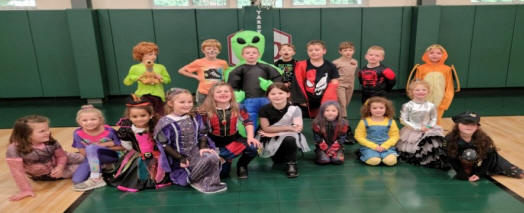 September – June - (Follows the Hamilton Township School District Calendar)
Ages 5 – 10 (kindergarten – 5th grade)
Transportation provided for :
Yardville Elementary School
Yardville Heights Elementary School
Sunnybrae Elementary School
Drop offs are allowed
Homework help and recreation activities planned
For more information click on the fact sheet
Questions about program contact:
Program Director Dan Bossio - (609) 585 – 4280 ext. 112 - dbossio@cyomercer.org
Yardville Summer Camp 2024
To View The 2023 Summer Camp Year Book Click Here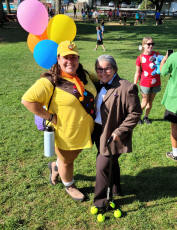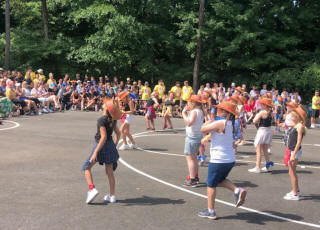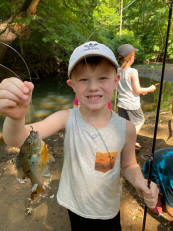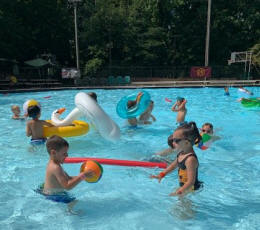 In our 66th year of operation, our CYO Day Camp, which is located on a beautifully maintained 23-acre wooded site on Yardville-Allentown Road in Yardville, New Jersey, is better than ever! Each year our CYO Day Camp Staff strives to help each camper to enjoy a healthy, happy summer while developing in body, mind, and spirit. The CYO is proud that our Day Camp is accredited by the American Camp Association, a prestigious honor, and the gold seal in the camping industry. The CYO Day Camp is accredited through the ACA until August 31, 2028.
We work to instill values such as respect (for self and others), fair play, sharing and cooperation. We stress safety first! Rules for acceptance and participation in the program are the same for everyone regardless to race, handicap, gender, color, religion or national origin.
9 week camp from June to August
7:30am – 5:30pm, morning and after care available
Ages 5-13
Lunch available to purchase, or bring your own. Afternoon snack provided.
Red Cross Swim Lessons provided, afternoon free swim.
On Site Special Events and activities.
Many camp clubs to choose from and daily fun games.
Accredited by American Camp Association.
Questions about the program contact our office at 609-585-4280 x 116.
Camp Staff
Our staff is led by a team of camping professionals with over 50 years of camp experience combined. The CYO Executive Director Thomas Mladenetz, M.Ed., has been administering camp programs for 41 years. Patrick Hardiman, Yardville Branch Director, in his 26th Camp Season, oversees the Day Camp. Tom, Patrick and their families all reside in Hamilton. The group Senior Counselors are Certified Teachers or college students many of whom are pursuing careers as educators. Certified lifeguards teach swimming lessons and supervise recreational swim.
Download 2024 CYO Day Camp Registration Forms:
2024 CYO Day Camp Information Sheet * 2024 Registration Form * Health History Form * Health Examination Form
Extended Care Form * 2024 Food Program Registration Form * Click Here to Pay For Day Camp Online
Click Here To View Archived Summer Camp Videos
Yardville Counselor - In - Training (C.I.T.) Program
This Program is designed to train 14 and 15 year old CYO Day Camp graduates with the skills to become successful Junior and Senior Counselors. Eligible (former CYO Campers) and interested candidates should contact the CYO in February to receive an application packet. All candidates would need to fill out an application, write an essay on why they would like to be a Camp Counselor, submit their most recent report card proving passing grades, and interview with one of our full-time staff members.
A one time, $25.00 application fee is required. Second year, 15 year olds re-applying do not need to submit an essay for the second year, however, they still need to re-apply, submitting their report card, and possibly re-interviewing. The Program is very competitive, and spaces are limited, not guaranteed for being a Day Camp graduate.
Costs of the Program are as follows for 14 year olds: $100.00 for session 1 and $75.00 for sessions 2, 3, and 4. There is not cost for 15 year olds, and second year 15 year olds are paid $5.00 per hour. We do provide a complimentary lunch for each CIT; however, we do not provide transportation. Candidates can be chosen to work the entire Summer, or by the session (s). In conjunction with the CIT Program we also offer a 4 week Teen Travel Camp Program for 14 and 15 year olds.
To download a 2023 CIT Application click here
For more information on the CIT Program contact Kate Monroe at 585-4280 x 101 or via e-mail at kmonroe@cyomercer.org
Yardville 2023 Evening Swim Lessons
We will be offering swim lessons for children ages 4-14 for 8 weeks from Monday, June 19 to Wednesday, August 9. Classes will take place at the CYO Yardville Olympic sized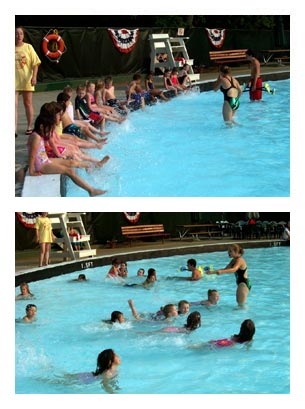 swimming pool located at 453 Yardville-Allentown Road.
The classes will be offered Monday, Tuesday, or Wednesday evenings from 6:00pm to 6:45pm or from 7:00pm to 7:45pm. Classes will be formed based on age and ability. The cost of the 8 week Program is $104.00 per child prior to May 27th and $119.00 per child if you register after May 27th.
To download a swim lesson registration form click here
The Program Supervisor is Andrea Sirak, a State-certified Teacher and long-time American Red Cross Swimming Instructor. The CYO Day Camp lifeguards (all certified) will serve as the instructors. The maximum teacher to student ratio will be 1:10.
Once the program begins no refunds will be granted. The CYO will only cancel classes for severe weather conditions; make up classes will only be available for such weather cancellations.
Spaces are limited and registration has begun! For more information contact us at (609) 937-8188 or (609) 585-4280 x 116 to speak to Andrea Sirak, Program Coordinator.
CYO Jazzercise Classes
Jazzercise Back On Saturday Mornings!
Click Here To Download The Flyer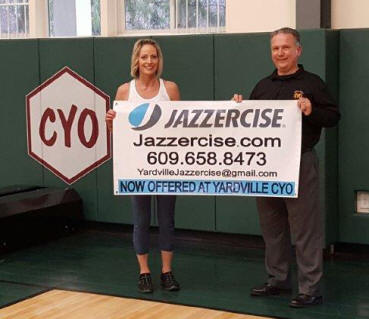 The CYO is proud to offer Jazzercise class on Monday, Tuesday and Thursday nights from 6:15PM - 7:15PM and Saturday mornings from 8:30-9:30. For more information contact Eileen Garretson at 609-658-8473 or yardvillejazzercise@gmail.com