Yardville Pre-School
CYO Yardville Pre-School Virtual Open House
Opened in September 2004, the Yardville CYO Pre-school quickly established itself as one of the top Pre-schools in Mercer County. Our school, for 3- 5 years old, is a state licensed facility with extremely small class sizes and excellent staff to child ratios.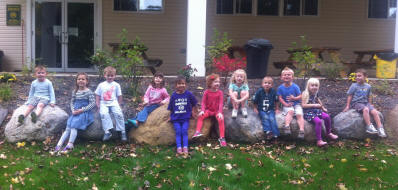 Our head teacher/ supervisor, Kate Monroe, leads the qualified & experienced staff. The Pre-school staff takes pride in creating a fun, clean, safe, learning environment for young children. The Yardville CYO Pre-school's curriculum follows the 'Creative Curriculum' and focuses on the whole child. The children are engaged in beginning math activities, imaginatie play, creative arts, emergent literacy lessons, and so much more!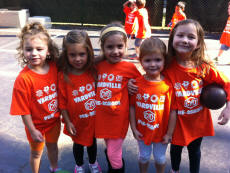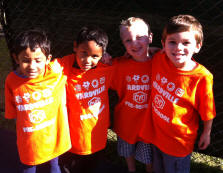 We offer flexible schedules, affordable rates, and high quality programming. A morning & afternoon snack, school t-shirt, and field trips are included in the monthly tuition. For the most part, we operate under the same calendar as the Hamilton Twp. School District. Our flexible schedules and fees are listed below:
Testimonials
The CYO is a fantastic preschool and summer camp. Our children have attended CYO preschool and summer camp and I cannot say enough nice words about the school, but especially the teachers. The teachers are by far the best in town! They take such quality time with the kids and make it so fun for them. What is even better is that they set the expectation and groundwork for the kids. It is so important to have that foundation to build on for the next 13-17 years that they will be in school. I have watched both of my kids blossom and flourish because of the wonderful experiences they have had at the CYO. When my son went to preschool, for the first time, he had a hard time adjusting. The teachers were so patient with him and really took the time to work with him. They gave me such good advice (as a first time mom). To this day, I am forever grateful for that. What speaks volumes to me is when my daughter asks me if she has school the next day, I say yes you do and she exclaims, "YES!!!!". That absolutely does my heart good. She cannot get into the classroom fast enough to give both her teachers a big hug. For a working mom, this makes me so happy in the mornings. CYO is the best and I recommend it to everyone I talk to!
Thanks so much for all that you do!
Megan Malloy
"CYO Preschool has been wonderful! My daughter Brielle has been there for 2 years this year she is with Mrs Debonis and Mrs. James for PRE-K. Both are genuine loving teachers. Mrs. Debonis especially has worked with my daughter on sharing, and friendships, on top of academic curriculum like letter recognition, pre-reading and fine motor skills, that will ensure her success in Kindergarten. Mrs. Debonis makes the children feel so loved and special. The small class sizes, the field trips that are tailored just for them and the extra little things that the CYO does for the kids are exactly what sets them apart from other schools. I would recommend CYO Preschool to anyone looking for academics, structure, as well as a loving atmosphere."
Beth and Jerry Giglio
CYO is amazing. The preschool program is fantastic and we really love the staff! CYO has a nurturing environment both educationally and socially. I know she is going to be well prepared for kinder. They really have helped my daughter come out of her timid shell. We were not sure how transferring to CYO would affect her, but not only was the transition seamless, she loves it so much she asked to go to school even on the weekend!
"My three children have gone through the CYO Yardville location. We have had an amazing experience. I am very appreciative of the care and education that your teachers and staff gave to my children. All of my children have very different personalities and they have catered to them. They were all very well prepared for kindergarten and gained self confidence through your program.
Being a teacher, I was very particular in choosing a preschool for my children. I pass three well known preschools on my way to CYO daily but always felt most comfortable with CYO. Everyone, specifically, Pat Hardiman, Kara DeBonis, Miss K., & Megan James have made these years memorable for my children.
Although Gemma is my youngest and we do not have any of preschoolers coming through, I will always highly recommend and have nothing but positive words for the CYO. Thank you again!
Warmly,
Benny & Krissy Tramo
Click Here To View The 2010-2011 Preschool Yearbook Video
CYO Yardville Pre-School gains NAEYC Accreditation!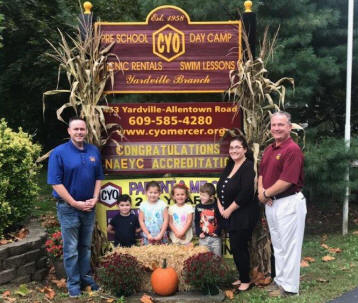 The Yardville CYO Preschool achieved the National Association for the Education of Young Children (NAEYC) Accreditation in August 2018! NAEYC-accredited programs have demonstrated a commitment to providing a high quality program for young children and their families. While the NAEYC accreditation process examines the total program, greatest emphasis is placed on the quality of interactions among staff and children and the developmental appropriateness of the curriculum--what really happens to the children. Health and safety, staffing, staff qualifications, physical environment, and administration are all reviewed during accreditation, but primary consideration is given to the nature of the child's experience. CYO Yardville Pre-School will remain NAEYC accredited until August, 2023
Pictured above left to right is Patrick Hardiman, CYO Yardville Director, four Pre-School students, Kate Monroe, Pre-School Supervisor, and Tom Mladenetz, CYO Executive Director.
To Download a Registration Form Click Here
To Download Monthly Sessions And Fees Click Here
2022– 2023 Monthly Fees

Session

Time

Cost

Full-time, Monday thru Friday (Year round or 9.5 months)

7:30am – 6:00pm

$860.00

Part-time, Monday, Wednesday, Friday (9.5 months)

7:30am – 6:00pm

$710.00

Part-time, Monday thru Friday (9.5 months)

9:00am – 3:30pm

$740.00

Part-time, Monday thru Friday (9.5 months)

7:30am – 12:30pm

$660.00

Part-time, Tuesday, Thursday (9.5 months)

7:30am – 12:30pm

$310.00

Additional Fees

Registration Fee:

$50.00

Second Child Registration Fee:

$30.00

Discounts

10% discount for full-time siblings

5% discount for part-time siblings

For more information contact us at (609) 585-4280 x116